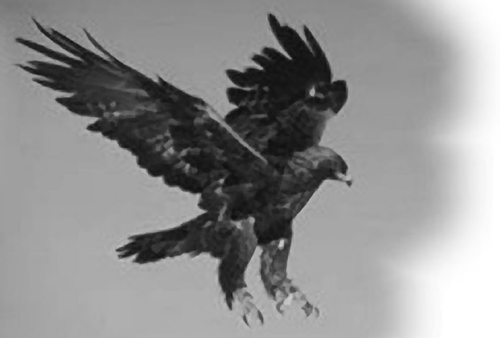 Testing it's wings one last time...
the young Eagle gives itself to the Wind…
Arlie Neskahi & Eagle's Jump

Eagle's Jump's music features the Native vocal majestics and flute playing of Arlie Neskahi--whose style has been honed to perfection with over 35 years of performing and studying traditional Native music. His performance is complimented by the stellar keyboard work of Mark Cardenas which ranges from warm synth washes to acid jazz, rock and funk. And Ben Smith, "Chief High Hat" adds just the right amount of rhythmic texture, or... rockin, funkin' drive to our grooves.

This is the cutting edge of a new genre that has as it's intent to explore the world of Native American music. Eagle's Jump strives to deliver a sound that allows the Native compositions to breathe without always being constrained to Western time and meter. Little of this has ever been done, rather, Native music is usually chopped and stretched to fit the Western time or groove. Their music features native vocal stylings and time, and also merges and soars with contemporary flavors!

Eagle's Jump headlined the Solar Festival Concert 2017
Indian Head Casino, Warm Springs Oregon

In 2008

Arlie Neskahi & Eagle's Jump won the
Contemporary Music Award at the
First Annual West Coast Native American Music Awards
For the song, Why

Arlie, Mark, Ben, Danny M and Danny G

have all worked together on numerous projects, most notably the landmark release,

Dreaming in Color, by The Songcatchers

on A&M Records, 1994.

www.rainbowwalker.net/songcatchers

The music of Eagle's Jump is a unique merging of the old and the new, the dance of the Musical expressions of many cultures... Just only now, beginning to know one another's Song after 5 centuries... It is an exciting musical adventure, take the leap with Eagle's Jump...

EJ Concert at Andrew Morrison's Murals, photo Jack Storm
Eagle's Jump can play...

a small warm room with an acoustic duo,
a midsize room/club with a duo/trio,
or a fullhouse banquet or hall with a four or five piece group
Full concert venue with 4 to 6 piece.


SOUNDBITES

Studio Demo Samples

Wind Song... Song of the Spirit of the Wind


Why... ... When Will I Ever Love Again?


Take Me Back...... Forty Nine Love Song

.

To contact us for bookings...

Eagle's Jump

Arlie Neskahi
206-781-3855 business voice mail
email: neskahi@earthlink.net

VIDEOS

Gonna Love Hard

Broken Treaty Bluez

Powwow Jam
THE BAND
Arlie Neskahi
...is Dine' (Navajo), born within the Dine' Nation of New Mexico. His Dine' name is Hataali Chee,"Red Singer", and his vocal and native flute music is noted for it's melodic and soulful style. Currently living in Seattle, Washington, he is well known throughout the Indian Nations for his performance, composition and knowledge of traditional music. In addition, he is an excellent storyteller and lecturer on Native American culture and spirituality. Arlie has won many awards and has numerous song commissions from the Gathering of Nations Song to the Mayor's Honor Song of Seattle. His band, Songcatchers, album, Dreaming in Color was awarded the First Americans in the Arts; Outstanding Musical Achievement for 1994. His composition and performance, Round Dance, was featured on the 1995 Grammy Award winning Prayer for the Wild Things; by Paul Winter and the Earth Band.

In 2002, Arlie completed a commissioned song for the Office of the Mayor of Seattle. Then in 2003, he was appointed to the Seattle Arts Commission by Mayor Greg Nichols. The Mayor Song's documentary was chosen for screening at the NAFTA filmfest in LA, Nov. 2002, and won first place in it's category at the National Association of Telecommunications Officers and Advisors Awards, 2003. He wrote "Kinji's Suite" for the Third Angle ensemble of the Oregon Symphony, which was debuted in November 1999 and performed again in February 2001. His music has been featured on four Spirit Mountain Casino ads promoting the Grand Ronde's Tribe's community fund. In 1999, Two Rivers, a native flute/electric guitar duo, was released on Sounds of Portland. This CD, produced by KXL FM 95.5, and the Portland Visitor's Association, featured some of the finest of Portland's musicians. His native singing group the White Eagle Singers are known throughout North America as one of the finest "powwow drums" today. They are winners of numerous singing competitions in both the US and Canada.

He toured internationally with the American Indian Dance Theatre as lead singer and Musical Director to Japan, Europe, the Middle East, North Africa, and 2 US tours of the West and East Coasts. His other current musical projects include working on producing Native Music concerts with Painted Sky www.paintedsky.org, in the Pacific NW. Lead singer for the White Eagle Singers and being contracted to compose for theatre, video, and film.

Arlie's full music bio can be found here. www.arlieneskahi.com
Mark Cardenas
Mark Cardenas, keyboardist, one of the hottest cats in Seattle, Mark is one of my grand partners in the Native musical scene. He is a master of composition and musical arrangement. When he speaks EVERYBODY listens as they know he can guide the music to the right places. Mark is a person whose accompaniment to Native music is unparalleled He is one of the original members of the Songcatchers and his work with this band in the mid-90's set the bar for Native musical collaboration.

Born and raised in Los Angeles, Mark began studying piano at the early age of four and moved on to guitar at 11. In his early teens he studied classical piano at the USC Prepatory School of Music. Studies at LA Harbor College and Sonoma State University introduced him to jazz and funk. He toured extensively around the East Coast for the next several years. In 1983 Mark relocated to Minneapolis where he soon landed a position as multi-keyboardist in Prince's funk alter ego group, The Time. Mark recorded on the multi-platinum album Ice Cream Castles and appeared in the Warner Bros. box office hit Purple Rain. In 1985 Cardenas recorded tracks for Janet Jackson's critically acclaimed debut album Control. Mark presently resides in Seattle as one of the most sought-after live performance keyboardists and session players. He has taught vocal and instrumental music full-time for 4 years in the Everett Public Schools. He has shared the stage with such artists as Peter Gabriel, George Clinton, The Neville Brothers, Heart, Chris Barron (Spin Doctors), Pigeonhed and Phat Sidy Smokehouse and numerous other artists and productions.

Mark recently composed several soundtracks for Microsoft Video and Multimedia.
Ben Smith
Ben Smith, drums/percussion, is another exciting person with whom I love to make music. Ben's work blending and following the lead of the Native vocables and rhythmic textures is amazing. As a powerhouse drummer his respect and love for Native music comes through as he flies with the music. And in return, he is able to drive some masterful grooves on Eagle's Jump's funky and rockin' pieces! Ben is also one of the original members of the Songcatchers.

Ben is the talented drummer behind Ann and Nancy Wilson of Heart. He hooked up with Ann and Nancy in Seattle when they were looking for a drummer for their band "The HeartMongers." They must have liked what he had to offer, because he has been with Heart on and off now for a decade. Ben has performed and recorded with an impressive and diverse roster of artists, including: Heart, Kenny G, Taj Mahal, Lovemongers, Deniece Williams, P.F. Sloan (legendary producer and writer of "Eve of Destruction" and "Secret Agent Man"), Cornelius Bumpus, Cyndi Lauper, jazz artists Nancy Wilson, Ernestine Anderson and Randy Brecker, Fatback Band, Phoebe Snow, Tingstas and Rumbel, Southside Johnny, The Songcatchers featuring Charles Neville, Tony Gable and 206 (top of the charts Contemporary Jazz group) and Mercury Records new artist Laura Love; as well as the many other talented artists Ben works with live and in the studio, in New York, Los Angeles and Seattle.

Currently, he is also working with Nancy Wilson's new music group, Roadcase Royale!

Versatile. Solid. Precise. Dependable. On disk and on stage, Ben Smith earns his reputation night in and night out as a premiere, first-call player. http://www.bensmithdrummer.com/
Danny Godinez
Danny Godinez, guitarist, a masterful musician and former touring member of the Songcatchers. Danny is a master in many styles from classical to funk to rock, he is a joy to play with and lends his style and virtuosity to the Eagle's Jump experience. His group, The Danny Godinez Band has toured extensively the past two years.

Danny Godinez has been playing guitar for over 20 years. He is currently singing and playing guitar for the Danny Godinez Band who has performed over 200 shows this past year and a half. They have played a number of festivals throughout Washington, including the Tacoma Blues Festival, where a representative from Tacoma Guitars described them as "mesmerizing....". The band tours throughout the Northwest, Midwest, East Coast, and Alaska.

Danny performed on a Bob Dylan tribute record for Red House Records entitled "A Nod to Bob". Danny has toured the United States as guitarist for the Lara Lavi Band. Lara has written with Chris Isaak, Suzanne Vega, and The Neville Brothers. In 2000, Danny placed first in the State of Washington in a guitar competition sponsored by VH-1 and Fender Guitars.

Danny enjoys teaching guitar immensely and has taught guitar for over twelve years. Danny is a founding member of Rock School and taught for us at BEST High School and Northstar Junior High prior to becoming a staff member at Rock School. www.dannygodinez.com
Danny Mangold
Danny Mangold, while a member of the Metros in Mpls, Mn. helped secure the band a recording contract with Capitol Records/MTM in 1985. After the band broke up in 1989, he moved to Seattle, Washington, and was introduced to Charles Neville ( Neville Bros.) by Mark Cardenas (The Time) and Ben Smith (Heart) and Arlie Neshkahi to help form The Songcatchers (A&M Records). He also opened a vintage guitar store in Seattle in the early 90's. At that time, the store had many celebrity clients including..

Green Day, Nirvana, Pearl Jam, Oasis, Foo Fighters, Soundgarden, Rolling Stones, Spin Doctors, Paul McCartney, Bill Frisell, Pat Metheny, Robben Ford and many other well-known musicians.

Returning to first love of music, Mangold formed a band featuring Grammy nominee Chris Barron of the Spin Doctors.. proceeds going to the Everett Women's Shelter in 1997. Drummer on the project, Ben Smith, introduced Mangold to Ann Wilson from Heart/Lovemongers. Over 2000-2001, Mangold filled in for Nancy Wilson on various live dates, and Today, Mangold continues to produce music in Seattle for Music Supervisors, Los Angeles. He continues to produce music and has 3 solo CD's.." Hey Rainmaker", "Lucky Me" and " Here Comes Tomorrow" . January of 2020, he spent songwriting with Hall of Famer and Heart Vocal icon, Ann Wilson.He continues to live in Seattle, 15 minutes from Jimi Hendrix's memorial cemetery and visits Jimi every so often. https://www.facebook.com/louislouis1234

Some highlighted performances
Warm Spring Oregon Solar Fest Days, Indian Head Casino. Wm Springs, OR
UW and Amazon's CoMotion PechaKucha Celebration, Intellectual House, UW, Seattle, WA
Mercer Island Days Summer Festival, Mercer Island, WA

6th Annual Northwest Native Celebration, Tacoma Art Museum, Tacoma, WA
Chief Seattle Club Annual Fundraser, Seattle, WA
Indigenous Beauty: Masterworks of American Indian Art, Seattle Art Museum
Folklife Festival, Seattle Center Mural Ampitheatre
Eagle's Jump at North Seattle Community College, Seattle WA
Seattle Presents, Showcase Concert at City Hall, Seattle, WA
University of Washington/Bothell Campus, Seattle WA
Eagle's Jump Benefit Concert, Green Bean Coffee, Seattle, WA
Lewis/Clark College, Lewiston, ID
University District Community School, Seattle, WA
Edmonds Community College, Edmonds, WA
University of Washington, Seattle WA
Lewis/Clark College, Lewiston, ID
Edmonds Comm College Fundraising Dinner
Arlie Neskahi & Eagle's Jump performed closing concert for the LaConner Summer Water Music Festival in LaConner, WA. Featuring native traditional to funky native fusion as well as an arrangement of Kinji's Suite.
University of Washington Native American Week, Seattle, WA.
American Bar Assocation, Spirit of Excellence Awards, Seattle, WA